Jun 30, 2010
Partingtons' Neoplastic Landscapes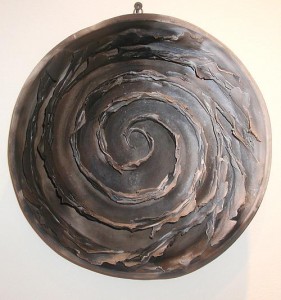 Neoplastic Landscapes
Friday, July 2, 2010 from 6:00pm - 9:30pm through July 31st.
The Carreno Studio and Gallery
901 N. Senate Avenue - Indianapolis, IN
Located 1 block South of the Stutz building, in the Sutton Garten Welding Co. with the entrance is in the rear.
Look for the bright green door.
Free parking in the Sutton Garten Parking Lot.
Neoplastic Landscapes
is a series of smoke fired ceramic wall reliefs - a
collaborative experimental effort by Soyong and Michael Partington in building ultra-thin modern clay structures and then firing them within the extreme heating conditions of the ancient pit firing process.

Pit (or smoke) fired sculpture is created using natural materials such as leaves, twigs, and wood shavings, that are set on fire in a closed container and allowed to smolder for up to 48 hours. The smoke creates variations of organic shapes and colors on the surface.
Comments (0)
Print This Entry
Moderation is on, so your entries won't show up until a moderator approves them.
Comments
Post a Comment
Comments have been turned off at this time. Please return to the home page!