May 22, 2011
Workshop in Cortona, Italy - May 2-9, 2012
Join Soyong Kang Partington in Tuscany for a week-long ceramics workshop of hand-building and raku! Collect materials from the mountains with local ceramic artist Giulio Lucanrini and then return to the studio to create! This week also includes a day trip to the Deruta, the ceramic center of Italy! May 2-9, 2012
All the details [
HERE
].
All-inclusive* workshop includes:
Escorted group travel
Rome to Cortona, May 2nd, 2012

Instruction in the studio
Seven nights three-star accommodations in historic Cortona** (Private room & bath)
Local Etruscan Museum & Museo Diocesano
All meals (Italian breakfast, lunch and dinner)
Daily wine tasting opportunities
Day trip to visit Deruta
A farewell wine tasting dinner
Clay & firing
Pricing information is [HERE]
May 07, 2011
Brose Partington in Wikipedia
Brose Partington
is an Indianapolis-based kinetic sculptor. He graduated from Cathedral High School in 1998 and earned his Bachelor of Fine Arts from the Herron School of Art & Design in 2004. His artworks have been shown in numerous cities across the United States including New York, Chicago, Miami and Los Angeles, in European galleries, and the Hermitage Museum in St. Petersburg, Russia.
Brose's complete information is now here at Wikipedia:
http://en.wikipedia.org/wiki/Brose_Partington
Jun 30, 2010
Partingtons' Neoplastic Landscapes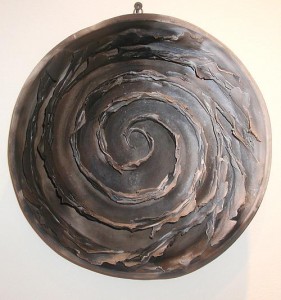 Neoplastic Landscapes
Friday, July 2, 2010 from 6:00pm - 9:30pm through July 31st.
The Carreno Studio and Gallery
901 N. Senate Avenue - Indianapolis, IN
Located 1 block South of the Stutz building, in the Sutton Garten Welding Co. with the entrance is in the rear.
Look for the bright green door.
Free parking in the Sutton Garten Parking Lot.
Neoplastic Landscapes
is a series of smoke fired ceramic wall reliefs - a
collaborative experimental effort by Soyong and Michael Partington in building ultra-thin modern clay structures and then firing them within the extreme heating conditions of the ancient pit firing process.

Pit (or smoke) fired sculpture is created using natural materials such as leaves, twigs, and wood shavings, that are set on fire in a closed container and allowed to smolder for up to 48 hours. The smoke creates variations of organic shapes and colors on the surface.
Dec 01, 2009
"Projected Curiosity" - New Brose Art
This Friday, December 4th join us at our new space in the Murphy Art Center for "
Projected Curiosity
".
Located at 1043 Virginia Avenue, Indianapolis, IN 46203 from 6-11 p.m. Experience new work by Brose Partington and Jeffrey S. Martin.
OPENING: Dec. 4 from 6-11pm
iMOCA
1043 Virginia Avenue
Indianapolis, IN
317.450.6630
Admission is FREE
A pair of Indianapolis-based artists will be the first featured in iMOCA's at the Temporary Contemporary in the Murphy Art Center in Fountain Square when their show of installation and sculpture opens Dec. 4
Brose Partington and Jeffrey S. Martin's show, Projected Curiosity, runs through January 16th.
Partington's work focuses on motion and how it effects time, patterns, and the cycles of history. "I have represented my ideas about movement through the use of motors, electronics, and the mechanisms I develop," he said. "Although the creation of the idea and the mechanism are distinctly different processes, if the work is successful, there is an inevitable and natural reconciliation of the two."
Recently, Partington's work has explored the natural world versus mankind's created world. "This work reflects the inherent conflict of space between humans and nature, and it emphasizes how those elements can interact differently," he said. "I want to continue to investigate these ideas and create ways to represent them in urban and natural environments, but instead of using motors and electronics I want to incorporate the existent kinetic energy of objects to power my works."
Show the extended entry >>
Nov 01, 2009
This art show in is for the dogs!
A NATIONAL JURIED FINE ARTS COMPETITION DEDICATED TO CANINE ART
The show's sponsors in Kansas are pleased to offer artists who produce dog-related art the opportunity to exhibit their work in a show de­voted exclusively to canine art. In addition, the competition will benefit The American Kennel Club Museum of The Dog as the Best of Show winner will be purchased by the Sponsors for $1,250.00 and donated to The American Kennel Club Museum of The Dog in St. Louis, Missouri.
All artwork must include a dog or dogs in the subject matter. The competition is open to all artists 18 years of age or older. Works must be original and must have been executed solely by the person in whose name they have been submitted. All entered artwork must be priced & for sale.
Two-dimensional works MUST BE framed, matted and READY FOR DISPLAY! We recommend that Plexiglas be used on shipped works that require glazing.
Two-dimensional works may not exceed 48 inches on horizontal line, including the frame.
Three-dimensional works may not exceed 50 pounds in weight and must fit through a standard 32" x 80" doorway.
CD ROM, entry cards and fees are due January 13, 2010
Complete Details are here:
http://artshowatthedogshow.com/Entry_Info.html
Oct 01, 2009
New Work from Brose Partington Oct,2 - 09
Bootleg Exhibitions: Vol. Group Show
featuring new work from Brose Partington
(
www.BrosePartington.com
)
1656 English Ave. Indianapolis, IN 46201
On the corner of English Ave. and State St. Across from Mt. Comfort Gallery
First Friday - Oct. 2nd, 2009 from 6:00 - 10:00 pm
Sep 14, 2009
Michael Partington adds new sounds to Sensory Path
The new sensory path sounds were unveiled at the open house of the Indianapolis Art Center on Friday 9-11-09.
This is the YouTube video of the
Nina Mason Pulliam Sensory Path
experience.
http://www.youtube.com/watch?v=NVYLk9RauAk
or view it here:
MichaelPartington.net
As you walk through the Art Center's
Nina Mason Pulliam Sensory Path
, a dozen infrared sensors detect your passing and each trigger a random playback of a sound from a large library of mp3 files stored on a memory card.
Each MP3 sound file in the library is from 15 to 30 seconds long. The result is a completely random composition played for you as you walk through the sensory path.
Usually the path is silent until you walk through it, but if several people are using it while heading in opposing directions, you will experience sounds already in play as you approach, but they are changed quickly to newer sounds as you pass by each infrared sensor.
Aug 24, 2009
Deep in Love - a concert of love stories and songs
Friday, August 28th at 8pm.
Tickets are only $15.00 and will available at the door.
Love stories for grown folks! Interesting, provocative and just down right sexy stories mixed with timeless love songs at the Indianapolis Art Center. At the end of the program Deborah Asante, the great Indianapolis Storytelling Woman, plans to open the stage for "Love Shout Outs". Anyone wanting to shout out to their love, lost loves or wish-I-could-love-loves will be welcomed to the stage. It promises to be an interesting and entertaining evening.
Vocalists Include: Kila Adams, Keesha Dixon, Vincent Jordan, Allison Woolery and Marlena
NOTE: NO ONE UNDER 21 WILL BE ADMITTED.
The stories will contain language and descriptions of images not suitable for children.
Aug 17, 2009
ARTSPARKLE: Mardi gras - Saturday, August 22, 2009
Please celebrate the Art Center's 75th Anniversary this summer at ARTSPARKLE: Mardi Gras on August 22. Now in its fifth year, Artsparkle has become
the
party of the late summer in Indianapolis. Over 500 guests will enjoy an evening under the stars in ARTSPARK including scrumptuous food prepared by Indianapolis
restaurants
such as Ruth's Chris, The Oceannaire and Daddy Jack's along with complimentary drinks from Absolut Vodka and National Wine and Spirits, dancing and fabulous live entertainment by
Buckwheat Zydeco
all night long. Get a taste of the music! Check out
Buckwheat Zydeco's
Throw Me Something, Mister
(MP3 format).
Traditional Mardi Gras décor and flavor will set the scene and infuse the gala with a celebratory spirit. After savoring the delicious dinner items, guests can kick up their heels to a one-of-a-kind concert by Buckwheat Zydeco on the Seybert Terrace. We've got a lot planned, check it out:
6:30-7:30 p.m. Pre-party (available with purchase of a patron ticket, $25 extra)
7:30 p.m. until food runs out
9-10:30 p.m. concert by Buckwheat Zydeco
10:30 p.m.-1 a.m. afterglow with DJ Paul Bunyon represented by H2H (after-party in the Art Center's library)
Purchase your tickets online here...
---
Other Recently Archived Articles...